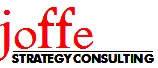 Organizational Focus

Do you have a coherent organizational strategy and sharp business focus? Are you operating according to a strategic plan? Are your staff and board fully committed to implementing it? What is your organization's competitive advantage? Can you articulate a clear value proposition for your clients, consumers and followers?
In this increasingly competitive world, with unlimited access to information and endless choices, it is no longer sufficient to offer a good product or service. You need to be the best at what you do — and make sure everyone knows it.
Joffe Strategy Consulting
can help you
▸ sharpen your business or organizational focus
▸ analyze your competitive landscape
▸ identify your competitive advantage or "sweet spot"
▸ develop a clear value proposition
▸ build an inspiring vision for success
▸ devise a strategy to get there
▸ communicate it to staff and stakeholders alike
Mark J. Joffe
has over 2 decades of experience in strategy development, first honed at Columbia Business School's Institute for Not-for-Profit Management. He has worked with non-profit boards, niche media and small businesses to develop and implement successful business strategies.
To find out more, please

contact us
.