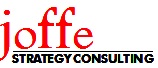 Web and Digital Strategy

Is your website helping you achieve your organizational or business strategy? Are you using it effectively to learn about your customers, followers and stakeholders? Does it inspire those who visit it and build their brand loyalty?
Joffe Strategy Consulting
provides a full menu of web and digital strategy services, including:
▸ web and digital content development
▸ brand strategy and message alignment
▸ design and redesign project management
▸ user experience and information architecture guidance
▸ traffic analysis and audience growth strategies
▸ digital product development
▸ social media strategy
▸ e-outreach and e-philanthropy
Mark J. Joffe
has over 2 decades of experience in new media, digital product development, strategic planning, journalism, e-marketing and e-philanthropy. He founded
jta.org
and developed it into the leading website for global Jewish news. He built the
JTA Jewish News Archive
, a state-of-the-art online database of 90 years of Jewish journalism. He has worked with community websites to focus their business strategy, grow their audience and expand their reach.
To find out more, please

contact us
.